January 11, 2022 – Charlotte, NC – Flournoy Development Group (FDG) has partnered with GID, a vertically-integrated real estate investor, operator, developer and fiduciary, and started construction on a mixed-use development in Charlotte, North Carolina's rapidly expanding University City submarket that will include a unique mix of 341 multifamily units, 56 for-rent townhomes, and ground-floor flex retail/office/commercial space along a "Main Street"-style entry corridor. The Class "A" community will feature a large central greenspace, resort-style pool and outdoor entertainment courtyard, communal co-working lounge, premier resident club room with gaming and market areas, stylish hobby/craft studio, and modern fitness and wellness center.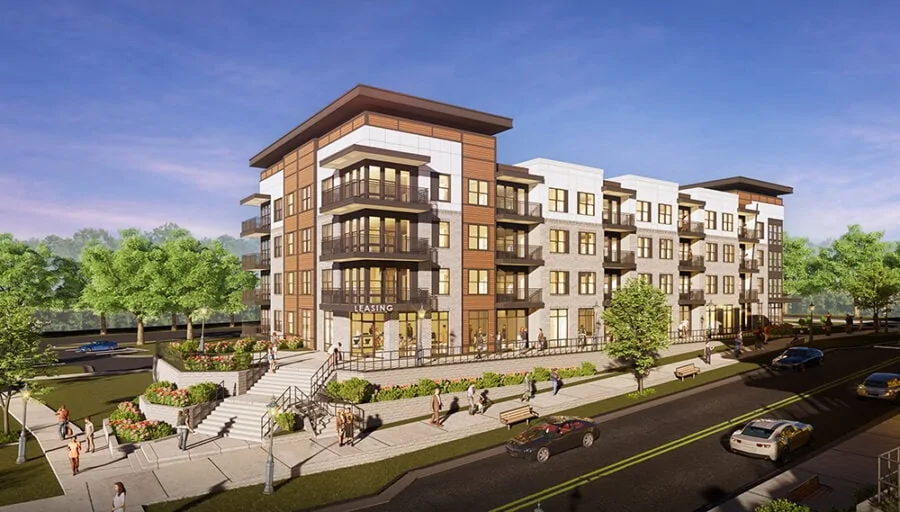 Established as one of Charlotte's largest employment hubs, the University area plays home to an expanding list of Fortune 500 company operations and UNC-Charlotte, which has an enrollment of more than 30,000 students. With immediate interstate access via I-85 and I-485, the ~25-acre development site provides a convenient commute to these thriving business, commercial, research, and educational corridors that comprise the surrounding region. In addition, the under-construction development is positioned approximately two miles from the JW Clay Blue Line Station (park-and-ride), which offers light rail travel to Charlotte's Uptown CBD and urban entertainment nodes such as NoDa and South End.
"Flournoy Development Group has ensured that this community is well positioned to meet the needs of residents within a growing neighborhood, and we are thrilled to partner with them on our first project in Charlotte," says Greg Bates, President and CEO of GID. "We believe that our teams' combined experience will create a community that is greatly impactful for the region, helping bring significant benefits and opportunity."
With construction now underway, the community expects to welcome first residents in the summer of 2023. The project team includes architect Dynamik Design and contractor McShane Construction Company. The community will be managed by Flournoy Properties Group.
About Flournoy Development Group
Founded in 1967, Flournoy Development Group is a multifamily residential real estate firm headquartered in Columbus, Georgia, focused on the development and management of high quality multifamily and seniors housing communities in strategic locations throughout the Southeast, Mid-Atlantic, and Southwest.  Consisting of Flournoy Development Group (FDG) and Flournoy Properties Group (FPG), the firm has developed and managed over 40,000 residential units throughout the United States.  Flournoy is a wholly-owned subsidiary of Kajima USA.  To learn more about Flournoy, visit www.flournoycompanies.com.
About GID:
GID is a privately-held and vertically-integrated real estate company that develops, owns, and operates a portfolio of multifamily, industrial, and mixed-use developments. With corporate offices in Atlanta, Boston, Dallas, New York City, and San Francisco, GID is an experienced real estate private equity investor and manager supported by an integrated operating platform and has 60 years of experience across multiple asset classes. GID's existing and under-development properties are valued at over $22 billion.
During its 60-year history, GID has developed, managed or acquired over 89,000 residential units and 32.2 million square feet of commercial space in twenty-four states. The current portfolio includes over 41,000 residential units, 1 million square feet of retail and office space, and 20 million square feet of industrial space. More information is available at www.gid.com.