Scottsdale, AZ. – Cadence Living, Flournoy Development Group and Harrison Street are excited to announce the groundbreaking of their 80-apartment luxury modern aging community featuring assisted living and memory care in Orange County, California. Cadence Brea is located in the heart of downtown Brea with direct access across the street to both the Brea Mall and the Brea Community Center. The project team includes Thoma-Holec Design, Irwin Partners Architects and Flatiron Development Group. The urban infill community will contain high end finishes, state of the art amenities and will become part of the fabric of the Brea Town Center.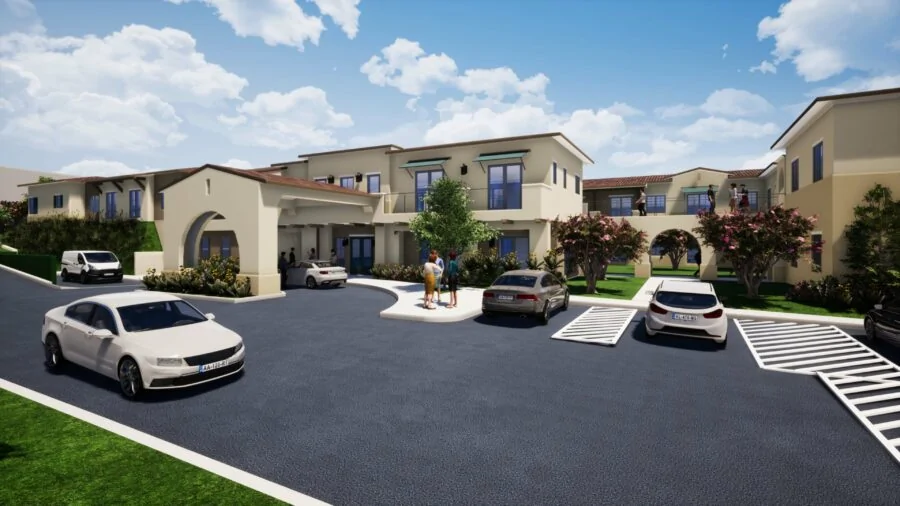 "This is a unique opportunity and part of our overall strategy to focus on boutique, high-end, amenity-laden communities with high walkability scores," stated Cadence Principal Rob Leinbach. "We look forward to being an integral part of the downtown core in the great community of Brea." "We are focused on locations with a high barrier to entry," added Justin Osborne, Vice President at Flournoy Development Group. "It is rare that we come across a site with this many amenities in close proximity."
This will be the third community delivered in the Cadence – Flournoy partnership after Cadence Olney in the coveted Washington DC suburb in Montgomery County, Maryland and Cadence at Kent-Meridian in the Seattle MSA. Cadence Brea is also the eighth collaboration between Cadence and Harrison Street. "Cadence Brea is a great opportunity to combine two fantastic Cadence partners in Flournoy and Harrison Street," stated Cadence Principal Eric Gruber. "We look forward to the development of a high-quality community and many more in the future with this sponsorship group." The community is scheduled to open in Q1 2024.
Cadence Living owns and/or operates communities throughout the "Southern Smile" states from the West Coast along the South to the Mid-Atlantic. What sets Cadence apart is the company's devoted approach to creating healthy vibrant communities that offer residents exceptional independent living, assisted living and memory care lifestyle options. The name "Cadence" underlines the company's personal philosophy that each community should aspire, create, and respond to life's natural rhythms to enliven and enrich the experience of residents. For more information on Cadence Living, visit www.CadenceSL.com
Flournoy Development Group is a Columbus, GA based company specializing in the development of Class "A" apartment and senior living communities throughout the United States. The company has developed over 40,000 apartment homes in more than 220 communities since its formation in 1967. Flournoy is now a Kajima USA Company, which is a wholly owned U.S. subsidiary of Kajima Corporation of Tokyo, Japan founded in 1840. Flournoy benefits from access to Kajima USA's engineering, design, construction and development businesses across North America. For more information about Flournoy, please visit flournoycompanies.com/senior-living/.
Harrison Street is one of the leading investment management firms exclusively focused on alternative real assets. Since inception in 2005, the firm has created a series of differentiated investment solutions focused on demographic-driven, needs-based assets. The firm has invested across senior housing, student housing, healthcare delivery, life sciences and storage real estate as well as social and utility infrastructure. Headquartered in Chicago with offices in San Francisco, London and Toronto, the firm has more than 200-employees and approximately $39 billion in assets under management. Clients of the firm include a global institutional investor base domiciled in North America, Europe, Middle East, Asia and Latin America. Harrison Street has been awarded Best Places to Work by Pensions & Investments for the last seven consecutive years and was named 2020 Global Alternatives Investor of the Year by PERE. For more information, please visit www.harrisonst.com.