Cadence Living and Flournoy Development Group announce that they have broken ground on Cadence at Kent-Meridian, located on the west side of 104th Ave SE in the Kent, Washington suburb of the Seattle MSA (Metropolitan Statistical Area). The five-acre property is an infill location located adjacent to restaurants and other amenities, has a stunning view of Mount Rainer and contains a forest preserve for the benefit of Cadence Living residents. The three-story building will feature 128 units for both independent and assisted living, and residents will be able to enjoy terrific "bleacher" seating just beyond the outfield wall of Kent-Meridian High School's baseball field. The community will include a variety of additional amenity spaces and programming aimed at enhancing the resident experience. Santé Development Group was instrumental in the site selection process and will be integral to the development execution of the project.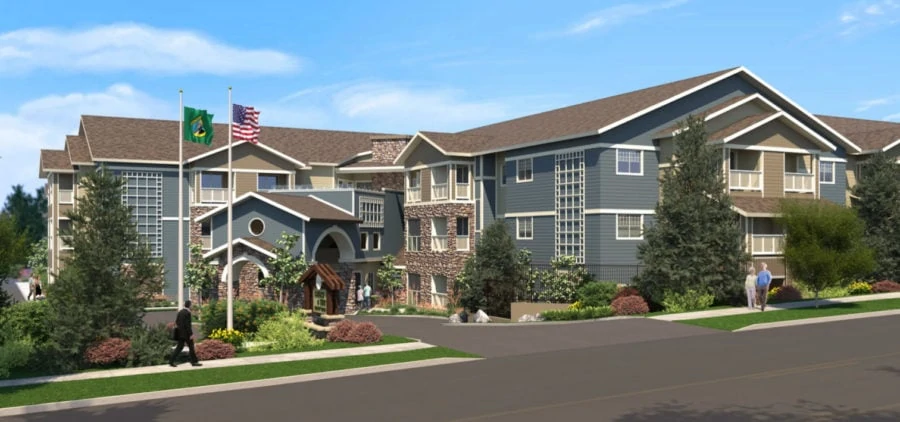 It is very rare to find a site that combines urban walkability with a natural preserve ," stated Cadence Principal Rob Leinbach, a Seattle native, "Combine that with the ability for an intergenerational experience with the adjacent high school and the fact that there has not been newer, state of the art senior housing construction in the Kent submarket leads us to believe we have a very special project. We are excited that Flournoy shares our vision and we look forward to our partnership with them to the West Coast."
"We are excited to work with Cadence to develop another marquee community for aging Americans, and to expand our footprint to include the west coast," said Justin R. Osborne, Vice President, Senior Housing. "The need for senior housing continues to increase across the country, and Flournoy will continue to develop sites validated by our proprietary analytics program EARLY™ alongside excellent partners like Cadence and Santé."
About Cadence Living
Cadence Living develops, owns and/or operates lifestyle communities throughout the the United States. What sets Cadence apart is the company's devoted approach to creating healthy, vibrant communities that offer residents exceptional independent living, assisted living and memory care lifestyle options. The name "Cadence" underlines the company's personal philosophy that each community should aspire, create and respond to life's natural rhythms to enliven and enrich the experience of residents. For more information on Cadence Living, visit www.CadenceSL.com.
About Flournoy
Flournoy Development Group, LLC ("Flournoy") is a Columbus, GA based company specializing in the development of Class "A" apartment and senior living communities throughout the United States. The company has developed over 40,000 apartment homes in more than 220 communities since its formation in 1967. In January 2018, Flournoy was acquired by Kajima U.S.A. Inc. (KUSA), a wholly owned U.S. subsidiary of Kajima Corporation of Tokyo, Japan, which was founded in 1840. Flournoy benefits from access to engineering, design, construction and development businesses across North America. For more information about Flournoy, please visit flournoyseniorliving.com.